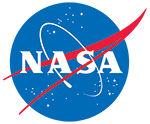 SMAP L4 Global Daily 9 km EASE-Grid Carbon Net Ecosystem Exchange, Version 6 (SPL4CMDL)
This is the most recent version of these data.
Version Summary

Changes to this version primarily reflect BPLUT recalibration and SOC re-initialization in response to updates to the upstream input datasets. Specifically:
• Revised SPL4CMDL global BPLUT calibration and SOC initialization using the latest SMAP Nature Run (NRv9.1) soil moisture and soil temperature data, and MERRA-2 surface meteorology.
• The carbon model BPLUT, Vv6040, has been recalibrated using the most recent FLUXNET2015 global tower site synthesis record, which includes 356 sites representing all major global plant functional type (PFT) classes.
• Adjusted model SOC decay parameters based on comparison with other global assessments, which reduced SOC storage estimates in the tropics (20 S – 20 N) from the previous (V5) SPL4CMDL product release.
Overview
The Level-4 (L4) carbon product (SPL4CMDL) provides global gridded daily estimates of net ecosystem carbon (CO2) exchange derived using a satellite data based terrestrial carbon flux model informed by the following: Soil Moisture Active Passive (SMAP) L-band microwave observations, land cover and vegetation inputs from the Moderate Resolution Imaging Spectroradiometer (MODIS), Visible Infrared Imaging Radiometer Suite (VIIRS), and the Goddard Earth Observing System Model, Version 5 (GEOS-5) land model assimilation system. Parameters are computed using an Earth-fixed, global cylindrical 9 km Equal-Area Scalable Earth Grid, Version 2.0 (EASE-Grid 2.0) projection.
Data Contributor(s):
Kimball, J. S., L. A. Jones, A. Endsley, T. Kundig, and R. Reichle.
Parameter(s):
GROSS PRIMARY PRODUCTION (GPP)
HETEROTROPHIC RESPIRATION (RH)
NET ECOSYSTEM CO2 EXCHANGE (NEE)
SOIL ORGANIC CARBON (SOC)
Platform(s):
Aqua, GEOS-5, L4_C, SMAP, Suomi-NPP, Terra
Sensor(s):
MODIS, NOT APPLICABLE, SMAP L-BAND RADIOMETER, VIIRS
Temporal Coverage:
31 March 2015 to present
Temporal Resolution:
1 day
Data Access & Tools
Documentation
User Guide
ATBDs
General Resources
Quality Assessment Reports
Product Specification Documents