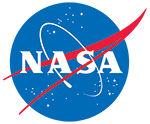 AMSR-E/Aqua L2B Global Swath Surface Precipitation GSFC Profiling Algorithm, Version 4
DOI: 10.5067/IR85TKB5BLM3
This is the most recent version of these data.
Version Summary

Format change to HDF-EOS5
Overview
The AMSR-E/Aqua Level-2B precipitation product includes instantaneous surface precipitation rate and type over ice-free/snow-free land and ocean between 89.24 degrees north and south latitudes at at 10 km spatial resolution along the track and 5 km spatial resolution along the scan. The data are generated by the GPROF 2017 algorithm using Version 4 of the AMSR-E Level-2A Brightness Temperatures.
Parameter(s):
CLOUD LIQUID WATER/ICE
CONVECTIVE SURFACE PRECIPITATION RATE
LIQUID SURFACE PRECIPITATION RATE
PRECIPITATION RATE
TOTAL SURFACE PRECIPITATION RATE
Temporal Coverage:
1 June 2002 to 4 October 2011
Temporal Resolution:
50 minute
Spatial Resolution:
5 km along scan
10 km along track
Blue outlined yellow areas on the map below indicate the spatial coverage for this data set.
Data Access & Tools
Documentation