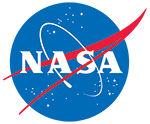 Nimbus-5 ESMR Polar Gridded Brightness Temperatures, Version 2 (NSIDC-0077)
This is the most recent version of these data.
Version Summary
Overview
The Nimbus-5 Electrically Scanning Microwave Radiometer (ESMR) data set consists of gridded brightness temperature arrays for the Arctic and Antarctic, spanning 11 December 1972 through 16 May 1977. The ESMR instrument senses horizontally polarized radiation at a frequency of 19 GHz. The data are gridded to a polar stereographic projection at 25 km resolution and adjusted to partially remove instrument drift and sensitivity shifts. Daily data that could not be adjusted are missing from this data set. Data are in 2-byte integer flat-binary format.
Temporal Coverage:
11 December 1972 to 16 May 1977
Temporal Resolution:
1 day
Data Access & Tools
Documentation
Help Articles
How To
Many NSIDC DAAC data sets can be accessed using the NSIDC DAAC's Data Access Tool. This tool provides the ability to search and filter data with spatial and temporal constraints using a map-based interface.