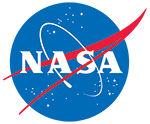 AMSR-E/AMSR2 Unified L2B Global Swath Ocean Products, Version 1
DOI: 10.5067/9YQRFKKEPUP4
This is the most recent version of these data.
Version Summary
Overview
This AMSR Unified global ocean data set reports integrated water vapor and cloud liquid water content in the atmospheric column, plus 10-meter sea surface wind speeds. The data are derived from AMSR-E and AMSR2 brightness temperature observations that have been resampled by the Japan Aerospace Exploration Agency (JAXA) to facilitate an intercalibrated (i.e., "unified") AMSR-E/AMSR2 data record. Ancillary files, including product history, quality assessment (QA), and file-specific metadata are also available.
Parameter(s):
CLOUD LIQUID WATER/ICE
TOTAL PRECIPITABLE WATER
WIND SPEED
Platform(s):
Aqua, GCOM-W1
Temporal Coverage:
1 June 2002 to 4 October 2011
2 July 2012 to present
Temporal Resolution:
50 minute, 50 minute
Spatial Resolution:
5 km along scan
10 km along track
,
Blue outlined yellow areas on the map below indicate the spatial coverage for this data set.
Data Access & Tools