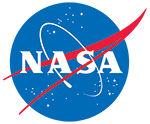 ICESat-2 L4 Monthly Gridded Sea Ice Thickness, Version 2
DOI: 10.5067/OE8BDP5KU30Q
This is the most recent version of these data.
Version Summary

Added interpolated and smoothed parameters for freeboard, snow depth and sea ice thickness.
Overview
This data set reports monthly, gridded winter sea ice thickness across the Arctic Ocean. Sea ice thickness is estimated using ATLAS/ICESat-2 L3A Sea Ice Freeboard (ATL10), Version 5 data and NASA Eulerian Snow On Sea Ice Model (NESOSIM) snow loading.
Parameter(s):
FREEBOARD
ICE DEPTH/THICKNESS
SNOW DEPTH
Platform(s):
ICESat-2, MODELS
Sensor(s):
ATLAS, NOT APPLICABLE
Temporal Coverage:
1 November 2018 to 30 April 2022
Temporal Resolution:
1 month
Spatial Reference System(s):
NSIDC Sea Ice Polar Stereographic North
EPSG:3411
Blue outlined yellow areas on the map below indicate the spatial coverage for this data set.
Data Access & Tools