Sign up for the
Arctic Sea Ice News RSS feed for automatic notification of analysis updates. Updates are also available via Twitter.
Atmospheric circulation patterns in August helped spread out sea ice, slowing ice loss in most regions of the Arctic. NSIDC scientists expect to see the minimum ice extent for the year in the next few weeks. While this year's minimum ice extent will probably not reach the record low of 2007, it remains well below normal: average ice extent for August 2009 was the third-lowest in the satellite record. Ice extent has now fallen below the 2005 minimum, previously the third-lowest extent in the satellite record.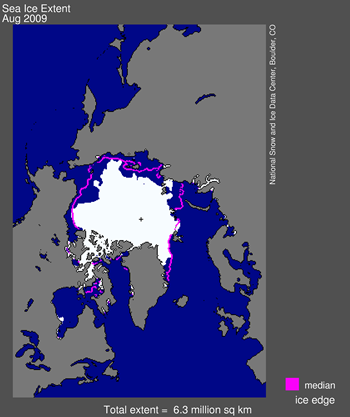 Figure 1. Arctic sea ice extent for August 2009 was 6.26 million square kilometers (2.42 million square miles). The magenta line shows the 1979 to 2000 median extent for that month. The black cross indicates the geographic North Pole. Sea Ice Index data. About the data.
—Credit: National Snow and Ice Data Center
High-resolution image
Overview of conditions
Sea ice extent averaged over the month of August 2009 was 6.26 million square kilometers (2.42 million square miles). This is 900,000 square kilometers (350,000 square miles) above the record low for the month, which occurred in August 2007, 200,000 square kilometers (77,000 square miles) above August 2008, and just below the August 2005 value of 6.30 million square kilometers (2.43 million square miles). Arctic sea ice extent for August 2009 was 1.41 million square kilometers (540,000 square miles) below the 1979 to 2000 average.
Further reading
Three papers published in the past month have added important insight to our understanding of Arctic warming and sea ice decline. Elizabeth Hunke and Cecilia Bitz show that improved models can now reproduce the changes in sea ice extent and sea ice age that have occurred in the last 30 years. Ron Kwok and Drew Rothrock combine satellite data and submarine measurements to show an astonishing decline in sea ice thickness over the last 50 years. And Darrell Kaufman and colleagues show that recent warming has reversed a 2,000-year cooling trend in the Arctic, and that this cooling was what would be expected from slow changes in Earth's orbit. The recent changes cannot be explained by these natural factors.
Hunke, E. C., and C. M. Bitz. 2009. Age characteristics in a multidecadal Arctic sea ice simulation. J. Geophys. Res., Vol. 114, No. C8, C08013 doi:10.1029/2008JC005186 22,
Kwok, R., and D. A. Rothrock. 2009. Decline in Arctic sea ice thickness from submarine and ICESat records: 1958-2008. Geophys. Res. Lett., Vol. 36, No. 15, L15501 doi:10.1029/2009GL039035.
Kaufman, D. S., D. P. Schneider, N. P. McKay, et al. 2009. Recent warming reverses long-term Arctic cooling. Science, p. 1236-1239. doi:10.1126/science.1173983.
References
Ogi, M., and J. Wallace. 2007. Summer minimum Arctic sea ice extent and the associated summer atmospheric circulation. Geophys. Res. Lett., 34, L12705, doi:10.1029/2007GL029897.
Serreze, M. C., R. G. Barry, and A. S. McLaren. 1989. Seasonal variations in sea ice motion and effects on sea ice concentration in the Canada Basin. Journal of Geophysical Research, 94(C8), 10955-10970. doi:10.1007/BF01030491.
For previous analyses, please see the drop-down menu under Archives in the right navigation at the top of this page.