Arctic sea ice extent for May 2011 was the third lowest in the satellite data record since 1979, continuing the long-term decline. During the month of May, sea ice declined at a near average rate, while air temperatures in the Arctic remained generally above average. Although ice extent is low for this time of year, ice extent at the end of summer largely depends on weather over the next few months.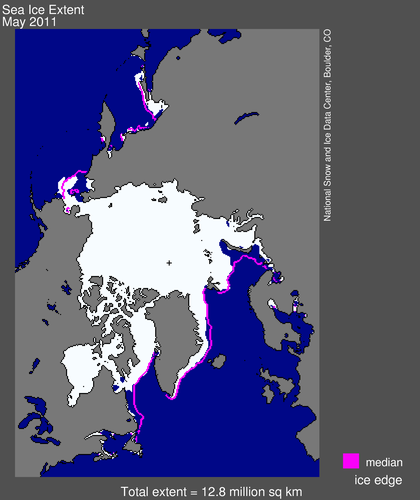 Figure 1. Arctic sea ice extent for May 2011 was 12.79 million square kilometers (4.94 million square miles). The magenta line shows the 1979 to 2000 median extent for that month. The black cross indicates the geographic North Pole. Sea Ice Index data. About the data.
—Credit: National Snow and Ice Data Center
High-resolution image

Overview of conditions
Average ice extent for May 2011 was 12.79 million square kilometers (4.94 million square miles). This is 210,000 square kilometers (81,000 square miles) above the previous record low for the month, set in May 2004, and 810,000 square kilometres (313,000 square miles) below the average for the reference period of 1979 to 2000.
Ice extent remained lower than average in the Atlantic sector of the Arctic, including the Kara and Barents seas and the Labrador Sea. During May, areas of open water known as polynyas continued to develop in the Beaufort, Chukchi, and Laptev seas, and Hudson Bay. Those open water areas absorb the sun's energy, which will likely help to hasten further ice melt.
References
Screen, J., I. Simmonds, and K. Keay. 2011. Dramatic inter-annual changes of perennial Arctic sea ice linked to abnormal summer storm activity,
J. Geophys. Res
., doi:10.1029/2011JD015847, in press.
Stroeve, J.C., M.C. Serreze, M.M. Holland, J. Kay, J. Maslanik, A. P. Barrett. 2011. The Arctic's rapidly shrinking sea ice cover: a research synthesis, Climatic Change, in press.
Wang, J., J. Zhang, E. Watanabe, M. Ikeda, K. Mizobata, J.E. Walsh, X. Bai, and B. Wu. 2009. Is the Dipole Anomaly a major driver to record lows in Arctic summer sea ice extent?, Geophys. Res. Letts., doi:10.1029/2008GL036706.
For previous analyses, please see the drop-down menu under Archives in the right navigation at the top of this page.