Arctic sea ice extent for the month of March 2011 was the second lowest in the satellite record. Sea ice reached its maximum extent on March 7; extent on this date tied for the lowest winter maximum extent in the satellite record. Air temperatures over most of the Arctic Ocean were above normal. New data on ice age shows that the amount of older, thicker ice has increased slightly over last year.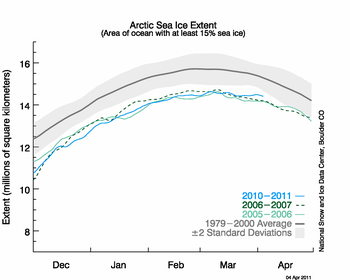 Figure 2. The graph above shows daily Arctic sea ice extent as of April 4, 2011, along with daily ice extents for previous low-ice-extent years in the month of March. Light blue indicates 2011, dashed green shows 2007, light green shows 2006 (the record low for the month), and dark gray shows the 1979 to 2000 average. The gray area around the average line shows the two standard deviation range of the data. Sea Ice Index data.
—Credit: National Snow and Ice Data Center
High-resolution image


Conditions in context
Ice extent showed little change through the month of March, as is typical this time of year. The ice reached its winter maximum extent on March 7, and over the next few weeks, ice extent declined only slightly. New ice was still growing in some areas, but it was melting in others. Overall, the ice changes in these regions canceled each other out.
Late in the month, extent again increased, though not above the previously reported level of March 7. This late increase is due mainly to increases of extent in the Kara, Barents, and Greenland Seas. The Greenland Sea increase is likely due primarily to ice that was exported from the Arctic Ocean to the Greenland Sea by winds and ocean currents, though some ice growth is also apparent. The increase in the Kara and Barents Seas appears primarily due to ice growth resulting from unusually cold weather in the region.
For previous analyses, please see the drop-down menu under Archives in the right navigation at the top of this page.