26 August 2008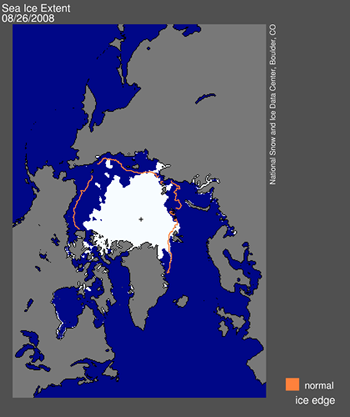 Figure 1. Daily Arctic sea ice extent for August 26, 2008, fell below the 2005 minimum, which was 5.32 million square kilometers (2.05 million square miles). The orange line shows the 1979 to 2000 average extent for that day. The black cross indicates the geographic North Pole. Sea Ice Index data.
Media Advisory: Arctic sea ice now second-lowest on record
Sea ice extent has fallen below the 2005 minimum, previously the
second-lowest extent recorded since the dawn of the satellite era. We
will know if the 2008 record will also fall in the next several weeks,
when the melt season comes to a close. The bottom line, however, is that
the strong negative trend in summertime ice extent characterizing the
past decade continues.
On August 27, 2008, at approximately 9:15 am MT, we issued an update with finalized numbers.
For the full announcement, see http://nsidc.org/arcticseaicenews/2008/082608.html.
For current updates on Arctic sea ice, see http://nsidc.org/arcticseaicenews/.

Contact the NSIDC press office at srenfrow@nsidc.org or +1 303.492.1497.