Glacier Photograph Collection
The National Snow and Ice Data Center (NSIDC) in Boulder, Colorado houses many photographic prints of glaciers, taken both from the air and from the ground. These photographs constitute an important historical record, as well as a data collection of interest to those studying the response of glaciers to climate change. NSIDC is partnering with the NOAA Climate Database Modernization Program (CDMP) and the National Geophysical Data Center (NGDC) to digitize selected photographs and make them available through a searchable interface. To date, more than 12,000 photographs have been digitized and comprise the Glacier Photograph Collection. Most of the photographs are of glaciers in the Rocky Mountains, the Pacific Northwest, Alaska, and Greenland. However, the collection does include a smaller number of photos of glaciers in Europe and South America. In March 2006, we began our special collection of Repeat Photography of Glaciers. Updates to the Glacier Photograph Collection are ongoing, and the photos are available online via a searchable interface.
Data Citation
The following example shows how to cite the use of this data set in a publication. For more information, see our Use and Copyright Web page.
NSIDC, (comp.). 2002, updated 2009. Glacier Photograph Collection. [indicate subset used]. Boulder, Colorado USA: National Snow and Ice Data Center. http://dx.doi.org/10.7265/N5/NSIDC-GPC-2009-12.
Sample Image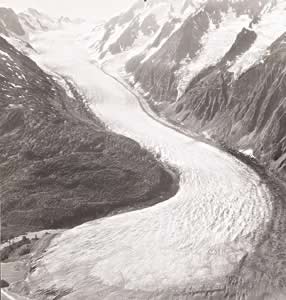 Takhin Glacier, Alaska, USA, August 4, 1948.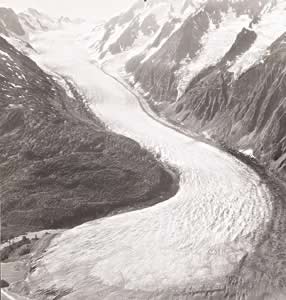 See Also