Arctic sea ice extent at end of December 2009 remained below normal, primarily in the Atlantic sector of the Arctic. Average air temperatures over the Arctic Ocean were much higher than normal for the month, reflecting unusual atmospheric conditions. Finally, we provide a review of 2009 Arctic sea ice conditions.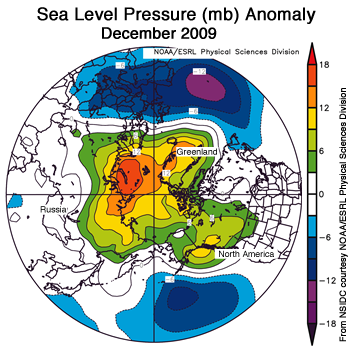 Figure 5. The map of sea level pressure anomalies (in millibars) for December 2009, shows higher than average pressures over Arctic latitudes (areas in orange and red) and lower than average pressures over north Pacific and North Atlantic oceans (areas in blue and purple.
—Credit: National Snow and Ice Data Center
courtesy NOAA/ESRL Physical Sciences Division
High-resolution image
Negative phase of the Arctic Oscillation
These regional contrasts in temperature anomalies resulted from a strongly negative phase of the Arctic Oscillation (AO). The AO is a natural pattern of climate variability. It consists of opposing patterns of atmospheric pressure between the polar regions and middle latitudes. The positive phase of the AO exists when pressures are lower than normal over the Arctic, and higher than normal in middle latitude. In the negative phase, the opposite is true; pressures are higher than normal over the Arctic and lower than normal in middle latitudes. The negative and positive phases of the AO set up opposing temperature patterns. With the AO in its negative phase this season, the Arctic is warmer than average, while parts of the middle latitudes are colder than normal. The phase of the AO also affects patterns of precipitation, especially over Europe.
The phase of the AO is described in terms of an index value. In December 2009 the AO index value was -3.41, the most negative value since at least 1950, according to data from the NOAA Climate Prediction Center.
While a negative AO leads to warmer temperatures over the Arctic, it also tends to reduce the flow of sea ice out of the Arctic by affecting the winds that can export the ice to warmer waters, where it melts. In this way, a negative AO could help retain some the second- and third-year ice through the winter, and potentially rebuild some of the older, multiyear ice that has been lost over the past few years. However, we do not yet know if the strongly negative AO will persist through the winter, or what its net effect will be.
For more information on the AO, see the NSIDC Arctic Meteorology and Climatology Primer.
References
Barber, D. G., R. Galley, M. G. Asplin, R. De Abreu, K.- A. Warner, M. Pucko, M. Gupta, S. Prinsenberg, and S. Julien. 2009. Perennial pack ice in the southern Beaufort Sea was not as it appeared in the summer of 2009.
Geophysical Research Letters
36, L24501,
doi:10.1029/2009GL041434
.
For previous analyses, please see the drop-down menu under Archives in the right navigation at the top of this page.