Sea ice extent grew throughout October, as the temperature dropped and darkness returned to the Arctic. However, a period of relatively slow ice growth early in the month kept the average ice extent low—October 2009 had the second-lowest ice extent for the month over the 1979 to 2009 period.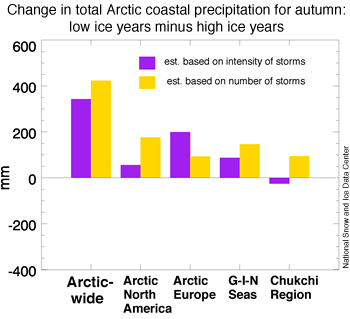 Figure 5. This bar graph shows that during years of low sea ice extent, precipitation is typically greater than during high ice extent years. The graph is based on storm counts for September, October, and November, in high and low ice years. High ice years in the study are 1980, 1983, 1986, 1992, 1996; low ice years are 2003, 2005, 2006, 2007, and 2008.)
—Credit: National Snow and Ice Data Center
High-resolution image
Declining sea ice extent and Arctic storms
A new study by Ian Simmonds and Kevin Keay, at the University of Melbourne in Australia, finds connections between the decline in September sea ice extent and the characteristics of Arctic storms. As ice extent has decreased, Arctic storms have shown a tendency to become more intense, especially in the last few years. The study suggests that low September ice extent, with extensive areas of open water, provides more energy to autumn storms, allowing them to become stronger. The stronger storms also help to break up the ice.
Related research at NSIDC reveals that when September ice extent is unusually low, precipitation linked to Arctic storms tends to be greater than when September ice extent is unusually high (Figure 5). Climate scientists are interested in these studies, because increased autumn snowfall could have effects on both sea ice and permafrost in the Arctic.
For previous analyses, please see the drop-down menu under Archives in the right navigation at the top of this page.