Sign up for the
Arctic Sea Ice News RSS feed for automatic notification of analysis updates. Updates are also available via Twitter.
During the first half of July, Arctic sea ice extent declined more quickly than in 2008, but not as fast as in 2007. As in recent years, melt onset was earlier than the 1979 to 2000 average. International sea ice researchers expect another low September minimum ice extent, but they do not yet know if it will fall below the 2007 record.
Note: This mid-monthly analysis update shows a single-day extent value for Figure 1, rather than the usual monthly average. While monthly average extent images are more accurate in understanding long-term changes, the daily images are helpful in monitoring sea ice conditions in near-real time.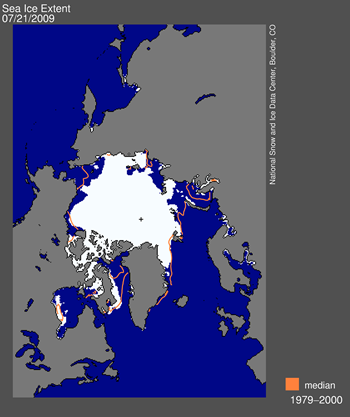 Figure 1. Daily Arctic sea ice extent on July 21 was 8.28 million square kilometers (3.20 million square miles). The orange line shows the 1979 to 2000 median extent for that day. The black cross indicates the geographic North Pole. Sea Ice Index data. About the data.
—Credit: National Snow and Ice Data Center
High-resolution image
Overview of conditions
On July 21, Arctic sea ice extent was 8.28 million square kilometers (3.20 million square miles). This is 617,000 square kilometers (238,000 square miles) more ice than for the same day in 2007 and 1.36 million square kilometers (523,000 square miles) below the 1979 to 2000 average. Ice extent on July 21, 2009 remained 8.06% higher than the same day in 2007, yet was 2.44% below the same day in 2008 and 14.06% below the 1979-2000 average for that day.
References
Perovich, D. K., J. A. Richter-Menge, K. F. Jones, and B. Light (2008), Sunlight, water, and ice: Extreme Arctic sea ice melt during the summer of 2007, Geophys. Res. Lett., 35, L11501, doi:10.1029/2008GL034007.
Smith, D. M., Observation of perennial Arctic sea ice melt and freeze-up using passive microwave data. J. Geophys. Res., 103, 27,753-27,769, 1998.
Stroeve, J. C., T. Markus and W. N. Meier (2006), Recent changes in the Arctic melt season, Annals of Glaciology, 44, 367-374
For previous analysis, please see the drop-down menu under Archives in the right navigation at the top of this page.