Sign up for the
Arctic Sea Ice News RSS feed for automatic notification of analysis updates. Updates are also available via Twitter.
After a slow start to the melt season, ice extent declined quickly in May. Scientists are monitoring the ice pack for signs of what will come this summer. The thinness of the ice pack makes it likely that the minimum ice extent will again fall below normal, but how far below normal will depend on atmospheric conditions through the summer.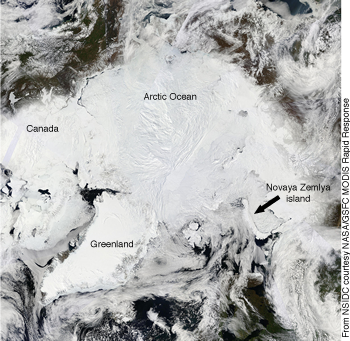 Figure 5. This satellite image of the Arctic ocean was taken on May 25, 2009 by the MODIS sensor on the NASA Terra Satellite. It shows sea ice beginning to break up in the Barents
Sea and north of Novaya Zemlya. Open water areas have also begun to form at the northern end of Baffin Bay (formation of the North Water Polynya) and in the Beaufort Sea off the coast of Alaska and Canada.
—Credit: From National Snow and Ice Data Center courtesy NASA/GSFC MODIS Rapid Response
High-resolution image
Looking towards summer
Because the 2009 melt season started out with a thin ice pack, September ice extent will likely be below average yet again. The thinning ice pack, discussed in our April post, has played a major role in the strong decline of September ice extent. Thinner ice requires less energy to melt. It also tends to be fractured, with more areas of open water. Since water absorbs more solar energy than ice, heat from the sun warms up areas of open ocean and promotes even more melt.
September extent in a given year also depends on summertime patterns of atmospheric circulation. The record low ice extent in September, 2007 was caused by a combination of a thin spring ice cover and an unusual summer atmospheric circulation pattern. High pressure over the central Arctic Ocean and low pressure over Siberia blew warm air over the Arctic Ocean and compressed the ice pack into a smaller area. Whether or not Arctic sea ice reaches a new record low this summer will depend on the circulation patterns that set up over the next few months.